In 1995 Anti-m had the pleasure of working with Ronnie Montrose. In addition to being known for the band Montrose with such classics as Rock Candy and Bad Motor Scooter, Ronnie has played with such artists as Van Morrison, Edgar Winter, Marc Bonilla, Gary Wright and many others. Ronnie also was one of the first to do a rock instrumental guitar album, Open Fire. After forming and playing with Gamma in the 80's Ronnie released as string of mostly instrumental solo albums including the highly acclaimed THE SPEED OF SOUND. In 2000 Gamma was reformed and recorded Gamma 4.
Ronnie worked on a number of pojects over the next decade releasing Bearings and Roll Over and Play Live. He also had fought a battle with prostate cancer. Ronnie passed away on March 3rd 2012. He was a good friend and a great musician and shall be missed.
For the Anti-M Project Ronnie played on 4 tracks on the cd Positively Negative. Instrumental versions of these songs are featured on the album It H-Hurts 2000 the Instrumentals.
Concert For Ronnie Montrose on DVD
This is the 2012 tribute concert that featured the surviving mebers of
Gamma and Montrose with Joe Satriani standing in for Ronnie.
The Concert featured appearances by
Neal Schon, Steve Smith, Sammy Hagar, Bill Church, Denny Carmassi, Davey Pattison, Glenn Letsch, Ed Roth, Marc Bonilla, Ricky Phillips and Jeff Watson.
Available at Ronniemontrose.com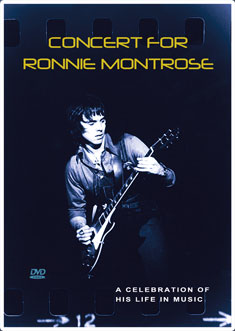 Review of Marc Bonilla and Friends at The Coach House, San Juan Capistrano, CA-Jan.16, 1998